Products - Packaging Materials
.................................................................................................................................................

Expanded Polyethylene

A closed cell extruded EPE that is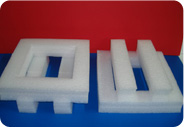 Lightweight

Tough & durable

Flexible & resilient

Highly shock absorbent

Non-toxic

Odorless

Corrosion resistant

Water & water vapor proof

Fungi and insect resistant

Chemicals resistant
Advantages



Thicknesses available: 0.85 mm to 10 mm & above in roll form.

Planks available: 15 mm to 100 mm and higher thicknesses.

Widths available: 1 metre or more, depending upon thickness.

Customized variants available: with length, width, thickness, density or lamination (e.g. LM/ML) as specified.

Colors available: natural, black, or as specified.

Special grades available: like fire retardant, anti-static, etc